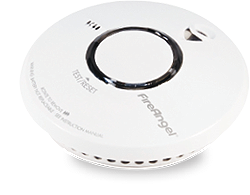 Smoke alarms will be mandatory from July 2016 and all rental properties should be insulated by July 2019 according to new legislation.
The recent announcement of the above plans by Government is good news for tenants and certainly not bad news for landlords. Smoke alarms not only save lives but the property as well. Insulation makes homes healthier to live in and dramatically reduces mould and decay which causes deterioration of the property.
The deadlines for both are reasonable and give property owners plenty of time to make any necessary improvements.
EVES make it easy
EVES Property Management will do the spade work for you. We will ensure you are well aware in advance of any requirements to upgrade your rental property under the amended law, and of the options you have.
Smoke alarms
Our property managers will check if smoke alarms are in place and meet the new standards which require one working smoke alarm in a hall or similar area within three metres of each bedroom door. In self-contained sleep-outs or caravans, at least one working smoke alarm will be needed. You will be advised as part of your regular inspection report what is required and what steps you need to take. Once installed it is the tenant's responsibility to replace batteries and advise of any defects.
Ceiling & underfloor insulation
We have nearly four years to help our landlords ensure that the properties we manage are insulated to meet the government criteria. The new law will require retrofitting of ceiling and under floor insulation. This acknowledges that retrofitting wall insulation is not feasible and that the design of some homes precludes retrofitting insulation in any event.
You should be aware of the insulation, or lack of, in your rental property. While EVES' property managers cannot physically check every floor and ceiling we can investigate the options and the credentials of suppliers and installers of insulation in plenty of time to allow you to make decisions and get the work done.
We will also advise you of any subsidies that may be available. The "Warm up New Zealand Healthy Homes" subsidy is one that can currently be applied for but that programme is only guaranteed until June 2016.
There is a strict criteria for this subsidy. For further information and to check your eligibility contact your property manager.
Government suggested the average cost of retrofitting both ceiling and floor insulation to be about $3,300. EVES will try to source the most efficient, reliable and competitive supplier in the market place.
We anticipate that there will be a raft of insulation providers leaping on this 'band wagon' and we will do the research to ensure our landlords have access to quality product sharply priced.
Watch for updates in future newsletters. If you are at all concerned or unsure of your position as a landlord do not hesitate to ask us.