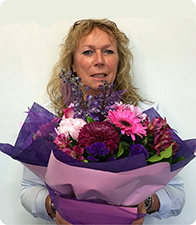 The daily satisfaction of serving our landlords by effectively managing the tenancies of their properties is reward enough for me and my colleagues.
However there is nothing nicer than, when out of the blue, a big bouquet arrives with a note like this, and makes it even more worthwhile.
"Thank you, Sue, for another fantastic year. Really appreciate your exceptional work. Have a wonderful Christmas and Safe New Year."
From Sylvia (Happy Rotorua Landlord)
Thank you, Sylvia, and all my clients, for trusting me to manage your properties and for another fantastic year in property management, for me and for EVES, a company which fosters exceptional service.
Sue Knowles
Property Manager